Event planners are professionals who ensure your event is planned and executed exactly how you envision. Whether it's your wedding or a corporate gala, leave the stress to an event planner who can help keep you within your budget. Event planners specialize in the details and can coordinate with your vendors to make sure everything goes off without a hitch. They also can recommend various vendors perfect for your style, vision, and price point. Event planners are experts who can help your vision become a reality!
Our Edmonton location is happy to offer event planning services for those who want a full-service event or wedding planner to help make their event a breeze. Please call our Edmonton office to schedule an appointment.
If your wedding or event is taking place closer to Red Deer, Calgary, or Banff our friendly customer service representatives can make a recommendation for a planner in your area or visit our resource pages for planners in your area.
Red Deer Event Planners   │  Calgary Event Planners   │   Banff Event Planners
Jenelle Jamani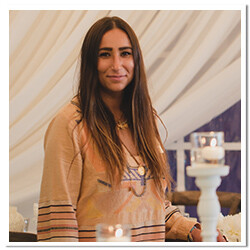 Catching the wedding bug at a young age, Jenelle remembers asking her mom to buy wedding magazines every time they went grocery shopping.
"There was always something so grand and magical about weddings; I loved that you could turn into a princess and no one would question it."
Jenelle graduated from the Art Institute of Vancouver in 2008 with a diploma in Event Planning. After spending a year working on large scale events in the Vancouver area, Jenelle moved to Edmonton and joined the Special Event Rentals team. Jenelle has successfully completed over 50 weddings and events in her planning career.
"I love being able to wow the couple and their guests when they walk into their venue. It's all in the details for me, so I try to always add special, individualized touches that will not only make the event beautiful but meaningful to the couple."